Walmart candle + old sheet music + burlap + black velvet ribbon + 3 antique buttons = A REALLY COOL LOOKING CANDLE.
-I decoupaged the old sheet music to the candle
-added a thin black velvet ribbon over the burlap
-added 3 antique crystal buttons
I also decoupaged another piece of sheet music to a left over tile that I found at a yard sale. I just added my signature "O" and this is how it turned out. I like these two pieces because they are very versatile. I've had them in my living room, spare bedroom and now they are in the office.
I was featured at: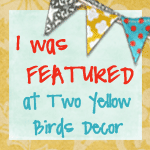 Come join the party at:
http://www.betweennapsontheporch.blogspot.com/
http://tipjunkie.com/
http://linda-coastalcharm.blogspot.com
http://gingersnapcrafts.com/
http://twoyellowbirdsdecor.blogspot.com/
http://52mantels.com
"